Cleats is powered by Vocal creators. You support
Gerald Oppugne
by reading, sharing and tipping stories...
more
Cleats is powered by Vocal.
Vocal is a platform that provides storytelling tools and engaged communities for writers, musicians, filmmakers, podcasters, and other creators to get discovered and fund their creativity.
How does Vocal work?
Creators share their stories on Vocal's communities. In return, creators earn money when they are tipped and when their stories are read.
How do I join Vocal?
Vocal welcomes creators of all shapes and sizes. Join for free and start creating.
To learn more about Vocal, visit our resources.
Show less
Oldest Players in Major League Soccer History
Some still dash across the pitch as if they were mid-20s material, and others have long since retired with dozens of accolades under their belts, but they're all the oldest players in Major League Soccer history.
We wouldn't readily look up to the oldest athlete on the team, but they are easily the best role models we may ever get a chance to meet off the pitch, field, or court—wherever your athletics may reside. As for football, or more commonly referred to as soccer, history seamlessly weaves into the fabric of the sport itself, more so than most (besides maybe baseball). This entails that footballers, the players who sidestep and dribble across the pitch in protection of the soccer ball, have somewhat of an airy freedom for their preferred stay within the MLS. From across the ages, the men listed as follows have been as much portraying the value of the sport itself as they have been protecting it. 
Why should the oldest players in MLS be remembered, or even listed? I guess to see just how far some felt the need to carry their passion onward. That's the whole point behind playing far beyond the age that allows you to even play, right? They're not all bearers of the biggest upsets in World Cup history, nor are they even the ones who incited the best soccer goals of all time. They're often more ordinary than you'd ever imagine, though they still showcase an unbelievable amount of zeal and athleticism in the face of the more acclaimed and awarded players. They're not ancient beings or black-and-white time lapses into soccer's past, in fact the oldest players in Major League Soccer history relate just how young this domestic soccer enterprise truly is and haw far it still has left to go. 
Eduardo Sebrango
The Cuban-born centre-forward striker Eduardo Sebrango was unstoppable for the moments you could see him on the pitch; he was that blindingly fast and agile that it was almost impossible to keep up with him. Sebrango, ironically, was well-known for making as little noise as possible, while still being absolutely pivotal to the game at hand. 
For instance, amid the 2009 USL season, Sebrango played for the Montreal Impact and led his team to clinch the playoff spot as they were dealing with a new head coach, Marc Dos Santos. All of this, among other things, and his most identifiable element is that he's one of the oldest players in Major League Soccer. He retired after 39 years of play in 2013. 
Carlos Valderrama
You couldn't miss him with that head full of blond curls like one of those Chia Pets back in the 1990s. Carlos Valderrama had a playability that also mixed in with his attitude. This is what deemed him "The Kid," or El Pibe, by most of his peers: while he may have been one of the oldest around, he was still a child at heart when placed on the pitch. That's why his image now rests among the hall of fame. 
Aside from being among the oldest players in Major League Soccer history, an astounding 40 years, Carlos Valderrama also has been regaled as the mot talented Columbian and South American player ever. Aside from even all of that, he's been given the South American Footballer of the Year award in 1987, 1993, and 1999, plus was even placed among World Soccer's Top 100 Players of the 20th century. 
Kevin Hartman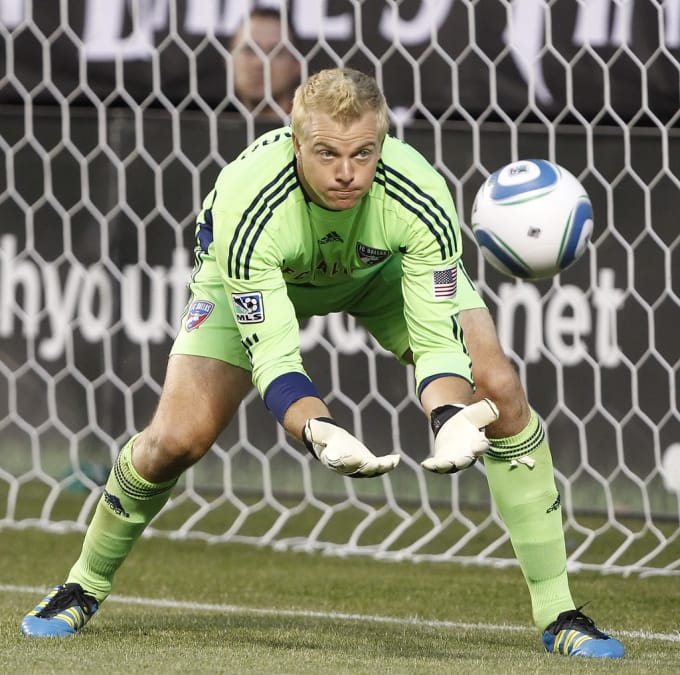 This guy actually won the record for amount of played minutes in Major League Soccer history, keeping it idle at 37,260 for 17 seasons of agile, goal-saving athletics. Hartman was deemed El Gato, Spanish for "the cat." That's how freaking agile this man was; he still holds the most saves over any other goalkeeper in MLS history. Also of note, he's among the oldest players in Major League Soccer history, too. I guess winning never got old for him. 
The majority of Hartman's career was spent on LA Galaxy from 1997 to 2006, where he was moved to Kansas City and on over to FC Dallas, until finishing up at New York Red Bulls as of 2013. One of his most notable accolades is the 1999 Goalkeeper of the Year, but it his all-time MLS saves record speaks for him: 1,136 stops. 
Preki
With a name like that, there's no wonder he's among the most ancient of footballers. Predrag Radosavljević, oftentimes shortened to simply Preki, is both former player and former manager, as his skills on the pitch seamlessly carried over to conducting teams, like Toronto FC and Chivas USA. 
His 43 years in service for the MLS is time enough to warrant a true soccer lover, but Preki doesn't need to prove himself. Having played for teams like Sporting Kansas City, Miami Fusion, and St. Louis Storm, Preki is a valuable addition to the league for the 1998 FIFA World Cup win he helped achieve. Inducted as of 2010, this legend of the oldest players in Major League Soccer is also one of the few still cherished today. 
Tim Howard
One of the few oldest players in Major League Soccer history who still plays in the league is Tim Howard. This goalkeeper has shown true talent and valor where it's needed most: 2003-2005, wherein he helped Manchester United win the 2003 FA Community Shield, FA Cup from 2003-2004, and the 2005-2005 League Cup. 
Once his tenure on world renowned Man U had seen its end when his permanent signing over to Everton had been completed in 2007, Howard moved on to existing more as a goalkeeper of worthy skill, rather than one with a historical identity. On the Colorado Rapids, signed and moved as of 2016, Howard now holds most capped goalkeeper of all time for the United States' national team. Fascinated by him? Read his book The Keeper, which is spellbinding in the discussion of his living with OCD and Tourette syndrome all throughout life. 
Frank Lampard
Playing on Chelsea for nearly 13 years, Frank Lampard is a well-known individual with or without a soccer ball thanks to his father's own long legacy. The midfielder proved worthy on both West Ham United and Chelsea, but his truest form of soccer skill came alive with his induction onto New York City FC in 2015. One of the most emotional moments in soccer history was during his second FA Cup win, which he helped secure with the game winning goal in the final. 
Appearing within the Premier League for a consecutive 164 times, an outfield player record to boot, Lampard also remains one of the oldest players in Major League Soccer history, and to some extent among the greatest midfielders of his generation. Lampard is also still the all-time leading goalscorer for Chelsea, a feat that proves of his valor on the pitch. 
Javier Morales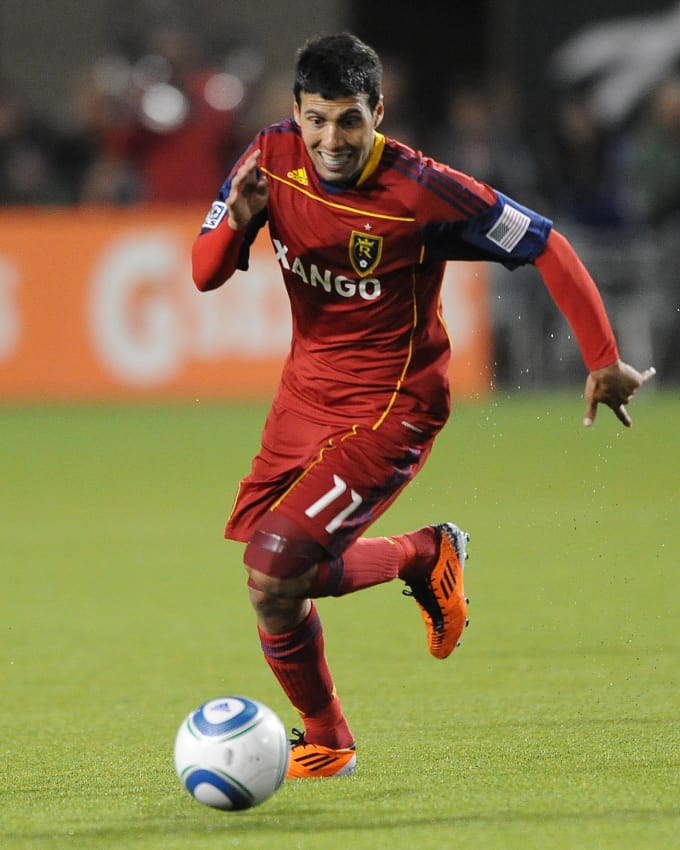 Like Howard, Morales too till resides within MLS play, finding himself at midfielder for FC Dallas. His 37-year-long career thus far has proven somewhat iffy; his talent is rare, for sure, but his leaps from team to team have allowed him little time to truly cement himself onto a team, or even to then showcase his skill at implementing chemistry among players where it's needed most.
No, Javier Morales has always made his name on his own terms, which is probably why he's among the oldest players in Major League Soccer currently. He's played on teams all across Spain, but his most obvious signs of possible football skill were awoken from 2007 to 2016, and amid the 2009 season, which was when he earned a selection on the MLS All-Star Game. 
Kasey Keller
In addition to his being one of the oldest players in Major League Soccer, Kasey Keller has also proven himself an avid footballer by becoming the first American goalkeeper to play regularly in Germany's Bundeliga, Spain's La Liga, and England's Premier League. The last team he played for was the Seattle Sounders FC from 2009 to 2011. 
Early in his career, Keller played for the Western Soccer Alliance's Portland Timbers during the 1989 college off-season, which saw him play so extraordinarily he would be deemed MVP league selection. Later, after allowing a mere four goals and then amassing eight clean sheets in 10 games, he would be named first team All American as a senior and was also awarded Adidas' Goalkeeper of the Year in 1991. 
Matt Reis
His college career alone speaks for itself: 1997 NCAA Championship win, 1997 NCAA College Cup Defensive MVP, breaking a school record 11-saves in the semifinals, plus he utilized 221 shutout minutes on the way to the title. This was before he was even selected by the LA Galaxy, despite the fact that his skill and talent was unfortunately overshadowed by the likes of Kevin Hartman. 
As a result, and thanks to a similarly dedicated player like himself, Reis would go on to become one of the oldest players in Major League Soccer history, even when he retired in 2013. He may not have won them, but his being named among finalists for the 2005 and 2006 MLS Goalkeeper of the Year Award is proof alone his talents from college were never holistically evolved or ever put to good use in his years following graduation. Reis, as you can see, stuck through it and made no complaints; he now coaches goalkeeping for LA. 
Tony Sanneh
His name may not ring a bell for being among oldest players in Major League Soccer, but those who do know of him know Tony Sanneh for his various contributions and outpouring of aid to those in dire need with his The Sanneh Foundation. Much of his philanthropic work stems from his youth in soccer, wherein he played on numerous local and low level clubs before being selected twice for the All State Team. 
Interestingly, Sanneh and another of the oldest MLS players, Brian McBride, were both teamed up under USISL's 1994 Milwaukee Rampage. They saw him score 14 goals and 14 assists in his first college year, but this had only been the beginning. He would transfer 12 different times over the course of his career, often for the better, to a wide variety of different clubs, such as DC United, Minnesota United FC, LA Galaxy, Colorado Rapids, Chicago Fire, and many more. 
Vicente Sánchez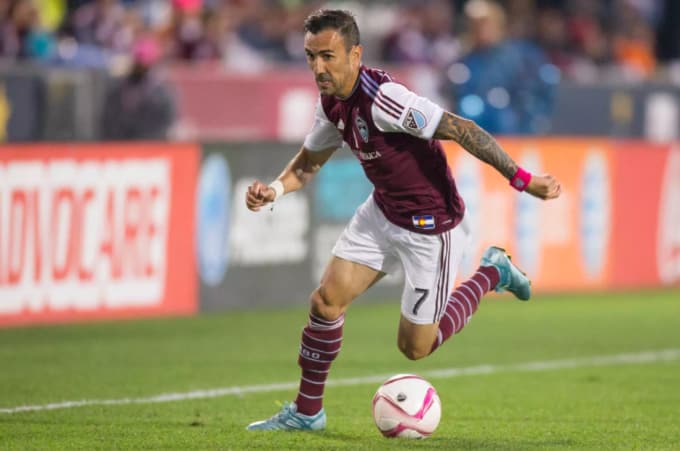 For 37 years and counting, Vicente Sánchez has proven that age is nothing but a number left to be squabbled over by lazies and crybabies. Vincent's soccer career started in 2000 for Sud América. His position at forward saw him playing a lot and gave credibility to his talent, but his true meaning to soccer wouldn't be unlocked until he joined forces with the Colorado Rapids in 2013. There, not only had he shone as an individual player, he had also shone as a team player and a fan favorite.
Yes, Sánchez might be one of the oldest players in major league soccer, but that doesn't mean he has to quit playing. Over the course of his eccentric transfers, the forward has seen some incredible bouts, like the own goal he forced out of an opponent following his own very first goal in the Rapids' 2013 win over FC Dallas. In the first 3 games of Colorado's 2014 season, Sánchez scored 4 penalty kick goals and didn't even break a sweat. His 2017 addition on the rosters of one Houston Dynamo should not be taken with a grain of salt.