List of Best Football Players in the World
Greatest Male Players in 2017/2018 Season Compilation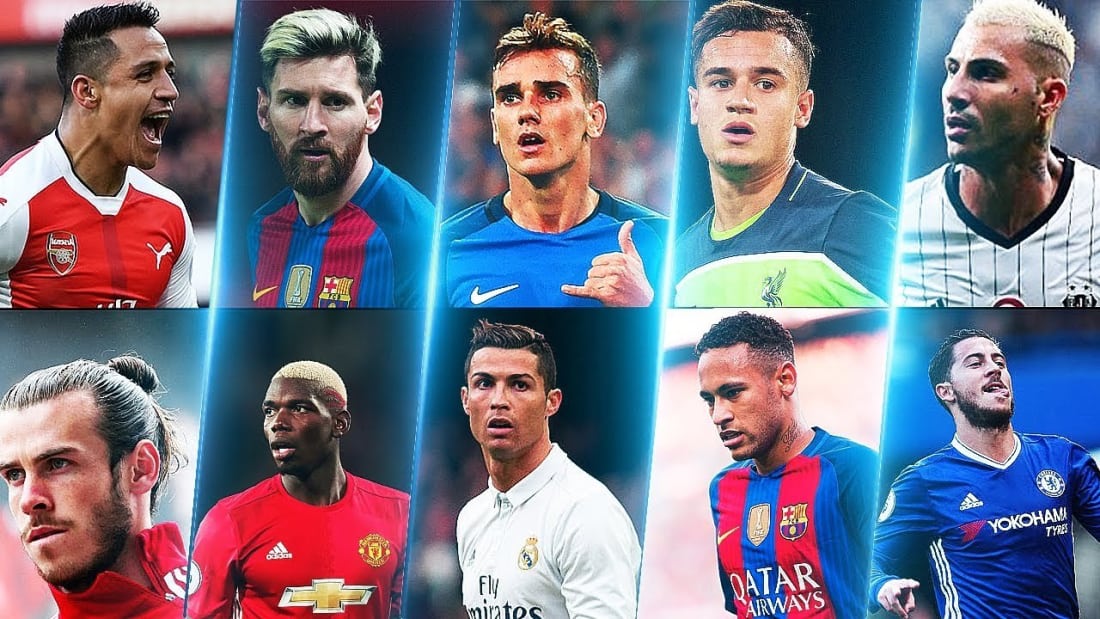 Who is the best footballer in the world? This changes year after year. New faces, new raw talents, and the best skilled are always emerging, as well as old faces who have begun to shine in the latter stages of their careers. Everyone has their own opinions on the best, but collectively everyone can agree on the top 10, which ever order they may be in.
Easily, the best current footballers in the world are leading as some of the most iconic in the history of the sport. New records are broken and some of them have also lifted their teams individually to numerous trophies and wins.
I have come up with a list of the top 24 players in the world, who right now I believe are killing it in the game.
Lionel Messi, Barcelona, Argentina.

Cristiano Ronaldo, Real Madrid, Portugal.

Neymar, PSG, Brazil.

Luis Suarez, Barcelona, Uruguay.

Kevin De Bruyne, Manchester City, Belgium.

Harry Kane, Tottenham Hotspur, England.

Luka Modric, Real Madrid, Croatia.

Robert Lewandowski, Bayern Munich, Poland.

Kylian Mbappe, PSG, France.

Toni Kroos, Real Madrid, Germany.

Eden Hazard, Chelsea, Belgium.

Sergio Ramos, Real Madrid, Spain.

Isco, Real Madrid, Spain.

Edison Cavani, PSG, Uruguay.

Paulo Dybala, Juventus, Argentina.

David De Gea, Manchester United, Spain.

Paul Pogba, Manchester United, France.

N'golo Kante, Chelsea, France.

Antoine Greizmann, Atletico Madrid, France.

Ma

rcelo, Real Madrid, Brazil.



Sergio Aguero, Manchester City, Argentina.

Phillipe Coutinho, Barcelona, Brazil.

Mohamed Salah, Liverpool, Egypt

Manuel Neuer, Bayern Munich, Germany.

In all honesty he number one spot could have gone to either Ronaldo or Messi, but for me Messi has just pipped it. He is an all round player with the best dribbling.
My best ever first 11 team is below. These are players from past and present who I believe were at their greatest at their peak.
1. Gianluigi Buffon (GK) - There for me literally was no other person who would filled in between the posts. His career, trophies won and all round great personality has earned him my top goalkeeper.
2. Gary Neville (RB) - Bombing down the right flank with his overlapping was one of the best around. Though he scored only a handful of goals, he assisted in many and done it again and again for Manchester United and England.
3. Fabio Cannavaro (CB) - This guy was actually my hero. He was seriously a brick wall and not many could get past him. He managed to do this with any other defender put besides him.
4. Rio Ferdinand (CB) - The most expensive central defender at the time. His speed, agility, and leadership skills made him a nuisance to play against. His temperament needed a bit work but that's no excuse to keep him off the list.
5. Roberto Carlos (LB) - Need I say much about him. Just one word would suffice. "Power"
6. Guti Naz (CDM) - In my eyes, the most underrated footballer of all time. His composure and his passing range was immense. He was never greedy and a lot of his assists were out of this world.
7. Cristiano Ronaldo (RM) - I honestly do not need to say anything other than "world class."
8. Ryan Giggs (LM) - His dribbling, his runs and most importantly his goals. Bar the "hairy chest," this guy was a fine player on the pitch and would easily make it in anyone's team.
9. Leo Messi (CAM) - In my opinion I could put him anywhere on the field and he'll score goals. He is without doubt a G.O.A.T.
10. Ronaldo (CF) - Speed, skills, and eye for the goal is exactly what someone would want as a striker and he possessed them all. Prolific goal scorer.
11. Pele (CF) - I'll just leave that there for you to decide why I put him in.
Subs: David De Gea, Cafu, Ashley Cole, Roy Keane, David Beckham, Neymar, Micahel Carrick.
If you agree or disagree with this list, let me know or if you believe some players have been left out, let me know.