Cleats is powered by Vocal creators. You support
Jack Dixon
by reading, sharing and tipping stories...
more
Cleats is powered by Vocal.
Vocal is a platform that provides storytelling tools and engaged communities for writers, musicians, filmmakers, podcasters, and other creators to get discovered and fund their creativity.
How does Vocal work?
Creators share their stories on Vocal's communities. In return, creators earn money when they are tipped and when their stories are read.
How do I join Vocal?
Vocal welcomes creators of all shapes and sizes. Join for free and start creating.
To learn more about Vocal, visit our resources.
Show less
Christian Pulisic: The Next-in-Line?
Can Pulisic be the US's first superstar?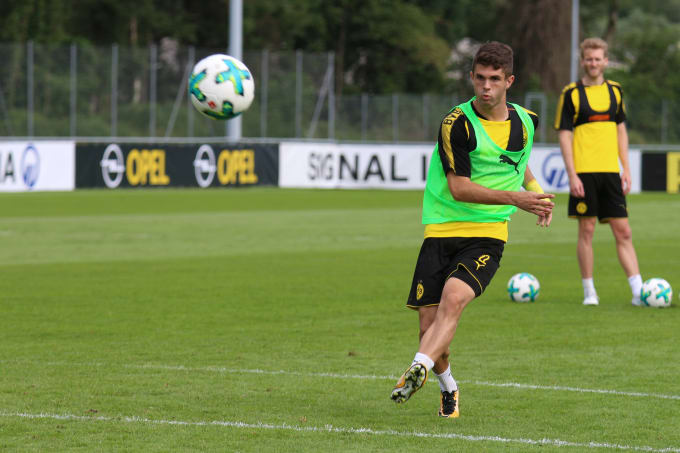 When you consider the footballers that have graced the US Men's National Team in recent years, their star players have rarely stood out anywhere other than in the US. The likes of Clint Dempsey, Jozy Altidore, Freddy Adu, Jermain Jones, etc., graced European football, and whilst all of them were seen as the best the US has to offer, none of them set the world alight.

Clint Dempsey, for many years considered the best product of the US footballing system, graced the Premier League for six years, turning out for Fulham & Tottenham Hotspur. The midfielder-come-striker was an effective player in the Premier League, but never had the potential to be anything more than a useful player.
Landon Donovan was a similar case. A popular figure during his season-long loan at Everton, he was the star of the national team but never really met the standards of European football when it came to performing there.
In the same period, the US has become famed for producing quality goalkeepers. Tim Howard, Brad Friedel, & Marcus Hahnemann have turned out for Premier League clubs, Howard's stint at Manchester United a highlight of the influx of American goalkeepers into Europe. Whilst producing a generation of quality goalkeepers is no mean feat (ask England), the national team and reputation of US football cannot be dictated purely by goalkeepers.
Dempsey, Donovan & Howard are by no means bad footballers, but what they do have in common is that they were seen by many as the star of a national team, only to perform at the same level as the average American footballers that have graced Europe before them.
Now though, there has been the emergence of a 'generational talent'. A player that is regarded amongst the best players in the world amongst his age group. A footballer that can genuinely surpass the achievements of his predecessors, and succeed in the upper-echelons of European football.
That man is Christian Pulisic.
The Borussia Dortmund star has long been regarded as a technically-able footballer, with the ability to go far. But it is only now, when he has begun to sporadically shine for the Dortmund first-team, that Europe's giants have started to take note of the youngster.
Pulisic was always destined for a career in sports. His mother and father both played college soccer and his father was a professional indoor soccer player for many years, his most notable stint was at Harrisburg Heat.
As Pulisic's father moved around the country for several different managerial roles, Pulisic's family followed in tow, exposing Christian to several different academies before eventually settling back in his birthplace, Hershey (no chocolate puns please).
It was here that coaches of the US Soccer Development Academy started to realize the potential of the youngster and six months after his 16th birthday, the mercurial Pulisic was living in Dortmund and excelling at youth levels for 'Der BVB'. After scoring ten goals & assisting eight in 15 games for the U17 & U23 sides, the American was asked to join the first-team for the team's winter break in January of 2016.
Pulisic has gone from strength to strength since then, racking up 97 appearances for Dortmund. This includes 32 games in the Bundesliga, where he has contributed 10 goals (4 goals & 6 assists).
Why is he so good?
Dortmund seems to have been the perfect place for his development. The philosophy of the club is based around the development from within and using the mouldable potential of youth to create exciting football that the fans can get behind.

Many have argued that Dortmund has begun to lose this identity since the loss of current Liverpool manager Jurgen Klopp, but Dortmund has never lost the famed homely atmosphere. In essence, it is the perfect environment for players to develop.
Previous stars include Robert Lewandowski, Pierre Emerick-Aubameyang, Mats Hummels, and Henrikh Mkhitaryan, as well as current stars Marco Reus & Mario Gotze. Whilst BVB has become a rung on the ladder to footballers stardom (See: Ousmane Dembele, Robert Lewandowski & Mats Hummels), it still holds the attraction of quality football, immense support, & opportunity for youth.
More recently, the arrival of youth prospects Jadon Sancho (formerly of Manchester City), Alexander Isak (scouted by Real Madrid), Dan-Axel Zagadou (formerly of Paris St. Germain), Mahmoud Dahoud (formerly of Borussia Monchengladbach) & Manuel Akanji (formerly of Basel) have plunged the club back into spotlight.
The incorporation of youth stars with quality international footballers has led to a formula that has provided success. It has also allowed Der BVB to use a tutoring system that couples their youngsters with proven footballers in a similar position, Pulisic benefitting from a relationship with club talisman, Marco Reus.
This environment has helped Pulisic turn into one of the highest-regarded teenagers in world football alongside the talents of Kylian Mbappe, Marcus Rashford, & Mathijs De Ligt to name a few. His blistering pace, quick change of direction, & improved end product have attracted the interest of some of the biggest clubs in the world.
Former manager Jurgen Klopp's Liverpool have registered an interest for the 19-year old, as well as Real Madrid, Barcelona, Manchester United, and Bavarian giants, (and Dortmund's main rivals) Bayern Munich.
He would suit the Premier League, his explosive, technical style encouraged in world football's marquee competition. Similarly, he would be surrounded by footballers from all around the world which would only help his development as a footballer.
Whilst many would be surprised if Pulisic was to swap the Westfalenstadion for the Allianz Arena, it has become a trend for Dortmund players to leave for the bright lights of Munich. In recent memory, Robert Lewandowski, Mats Hummels, & Mario Gotze have swapped to the red of Bayern. The latter of those, Mario Gotze, had a torrid time under Pep Guardiola's stewardship and returned to the Westfalenstadion in the summer of 2016, half the player he was when he left.
The Hidden Agenda
Whilst the talents of Pulisic are outstanding, there is a hidden motive behind the interest of Europe's top clubs. As previously mentioned, the American represents the first player from the US with the potential to challenge at the top of world football.

With this, he also represents a new route into the American market for European clubs. When you consider the money generated by American football & baseball clubs in the US, you can see the attraction of the US market for European football clubs.
The arrival of recognizable names in the US has pushed their professional league into the limelight. Players such as Zlatan Ibrahimovic, David Villa, & Carlos Vela all perform in Major League Soccer, and whilst this has made the league immensely popular, the lapse in quality in the MLS means it will never be as popular as European football.
European clubs are seeing Christian Pulisic as having the same potential effect that Shinji Kagawa has had on Asian football. A singular footballer that the nation/continent can get behind.
He is a marketable individual, a game-changer of the highest order, and a footballer who has been tried and tested in the European game. The fact that he's performing consistently at Dortmund means there is less risk in taking the youngster to a giant. At the age of 19, he already has a sponsorship deal with Nike, unprecedented considering the case of 15-year-old Freddy Adu.
Similarly, the fact that he has been performing alongside world stars since the age of 16 means that he will not falter when performing next to higher-quality team-mates, a lesson learned by Real Madrid with Martin Ødegaard.
Pulisic has lived on his own since the age of 16 when he moved from Hershey to Dortmund. This has never affected his form and his ability to make a difference, and this emotional maturity will hopefully see him make a measured decision when he eventually moves away from the comfort of Dortmund to one of the world's top clubs.