Cleats is powered by Vocal.
Vocal is a platform that provides storytelling tools and engaged communities for writers, musicians, filmmakers, podcasters, and other creators to get discovered and fund their creativity.
How does Vocal work?
Creators share their stories on Vocal's communities. In return, creators earn money when they are tipped and when their stories are read.
How do I join Vocal?
Vocal welcomes creators of all shapes and sizes. Join for free and start creating.
To learn more about Vocal, visit our resources.
Show less
Best Women's Soccer Cleats for Strikers in 2018
Strikers and forwards need equipment suitable for their important offensive role on the field. Here are the best women's soccer cleats for strikers available this year.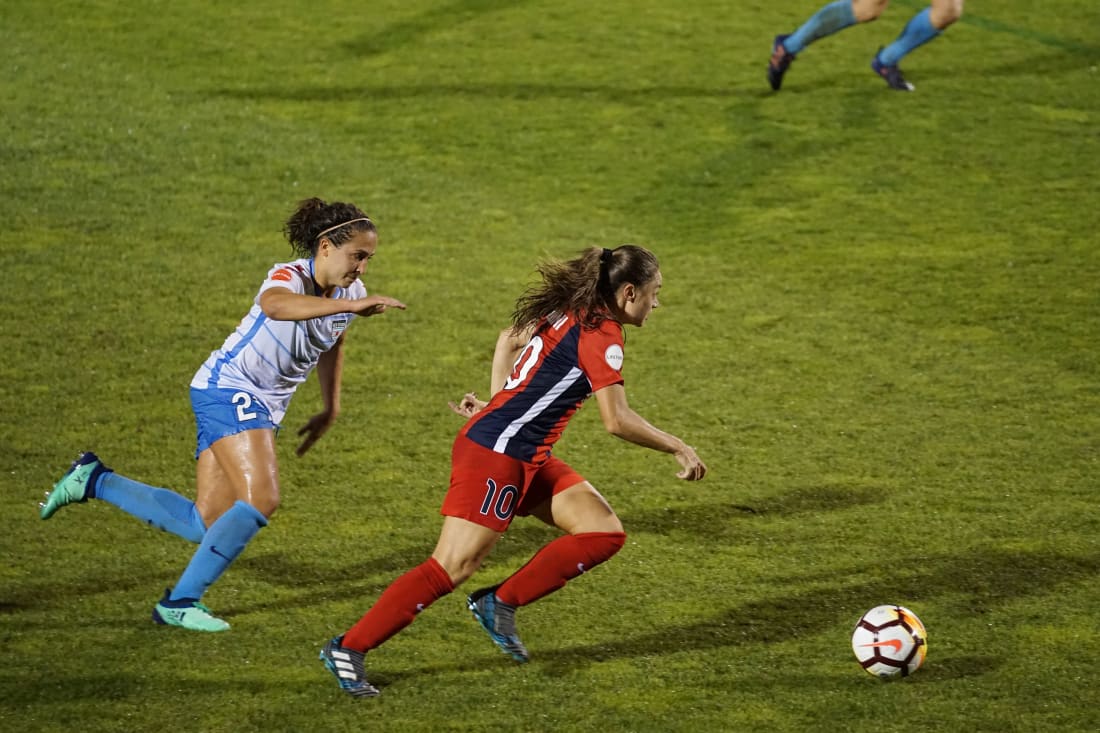 Strikers, also known as forwards, are some of the most active players on the soccer field, as they make up the front offensive line. As such, players in these positions require cleats that optimize speed and accuracy. Because the needs of men and women soccer players are more or less the same, most soccer cleats are unisex by design. Some companies, Nike in particular, also produce models exclusively for women. This list includes examples from each category as we explore the absolute best women's soccer cleats for strikers and other offensive players.
ONE Leather Soccer Cleat by Puma
Puma's ONE soccer cleat is designed to combine the best features of traditional kangaroo leather construction with the high tech capabilities of synthetic materials. The stud configuration features a combination of conical and bladed studs, providing speed when you need it. The evoKNIT sock lining provides a comfortable, snug fit, and the textured leather upper provides the accuracy a good striker needs.
X 18+ Purespeed FG Soccer Cleats by Adidas
These Adidas X 18+ Purespeed cleats feature a laceless design, which is a controversial feature. If the boot doesn't fit just right, there is very little room for correction. However, if it fits properly, the result is a cleat that fits like a second skin, providing unparalleled speed and stability. The other benefit of a laceless design is a pure and clean strike zone, which makes for optimum accuracy.
Copa Mundial Soccer Cleat by Adidas
The Adidas Copa Mundial is one of my most frequent soccer cleat recommendations—and for a good reason. This unisex soccer cleat is one of the most iconic and long-lasting designs of all time, great for beginners to the game. First produced in 1982, the Copa Mundial endures because of its high quality materials and durable, effective construction. The genuine kangaroo leather and German craftsmanship mean the Copa Mundial is still just as effective of a boot as it was almost 40 years ago.
Women's Predator 18.1 FG Soccer Cleat by Adidas
The Adidas Predator is one of the most iconic soccer cleats of all time thanks to its effectiveness and many advanced features. The upper features a unique Controlskin material which provides a close touch on the ball in any weather condition. The socklike Primeknit upper provides a soft but secure fit designed to remain in place without supervision, leaving you to focus on what's most important: the game. They are even some of the best women's soccer cleats you need to have.
Women's Magnetico Premiere Soccer Cleats by Under Armour
Under Armour's Magnetico Premiere model is the perfect pair of women's soccer cleats for strikers who prioritize comfort. After all, uncomfortable cleats are absolutely no help when it comes to scoring goals! These Under Armour Magnetico Premiere women's soccer cleats are supremely comfortable thanks to a three-layer, form-fitting, synthetic upper, which is designed to conform to the wearer's foot shape for a personalized fit. These cleats are definitely among the must have gear for women.
Women's Nemeziz 18.1 FG Soccer Cleats by Adidas
The Adidas Nemeziz 18.1 is one of the most advanced soccer cleats on the market. The Adidas exclusive torsion tapes and agility bandage secure the boot's fit around your midfoot and ankle, providing optimum control on the field. These supremely high quality soccer shoes are also incredibly lightweight, reducing fatigue and providing a soft touch when needed. Conical studs are strategically placed for optimum effectiveness on firm ground fields.
Women's Hypervenom Phantom III FG Soccer Cleat by Nike
The Nike Hypervenom Phantom III is one of the overall best soccer cleats for strikers thanks to specific features that provide optimal offensive capabilities. Hollow pods on the upper provide a dampening effect for a softer touch, allowing you to set up shots with ease. The strike zone is outfitted with Nike's signature PORON foam pods which harden upon impact, providing a firm and sure shot.
Maracana Women's Soccer Cleat by Diadora
Diadora's Maracana model is one of the best budget women's soccer cleats for strikers and forwards or really for any position. The low price means you won't get as many of the ultra-fancy features as with some of the other soccer shoes on this list, but the classic design is versatile and effective on the field. The leather construction is durable and comfortable, making these a good all-around cleat that doesn't break the bank.
Tiempo Legend X VII Academy Indoor Soccer Shoes by Nike
The Nike Tiempo Legend series is the holy grail of indoor soccer shoes. While some indoor soccer shoes are designed for all-around "street" play, serious indoor soccer strikers have a lot to gain from a slightly more specialized boot like the Tiempo Legend X VII. The flat rubber outsole provides optimum traction on indoor fields while the strike zone provides far better accuracy than your run-of-the-mill sneaker.
Mercurial Vapor XII Elite FG Soccer Cleat by Nike
The Nike Mercurial Vapor line represents some of the absolute highest quality men's and women's soccer cleats for strikers and other offensive players. The lightweight synthetic design optimizes speed, which is crucial for offensive plays. The chevron stud configuration provides rapid acceleration as well as efficient braking. The Mercurial Vapor is far from the cheapest pair of boots on this list, but the advanced technology you get for your dollar is well worth it.