Cleats is powered by Vocal creators. You support
James Porterson
by reading, sharing and tipping stories...
more
Cleats is powered by Vocal.
Vocal is a platform that provides storytelling tools and engaged communities for writers, musicians, filmmakers, podcasters, and other creators to get discovered and fund their creativity.
How does Vocal work?
Creators share their stories on Vocal's communities. In return, creators earn money when they are tipped and when their stories are read.
How do I join Vocal?
Vocal welcomes creators of all shapes and sizes. Join for free and start creating.
To learn more about Vocal, visit our resources.
Show less
Best Goalkeeper Gloves Under $100
Finding goalkeeper gloves under $100 doesn't mean you have to settle for less than your hands deserve.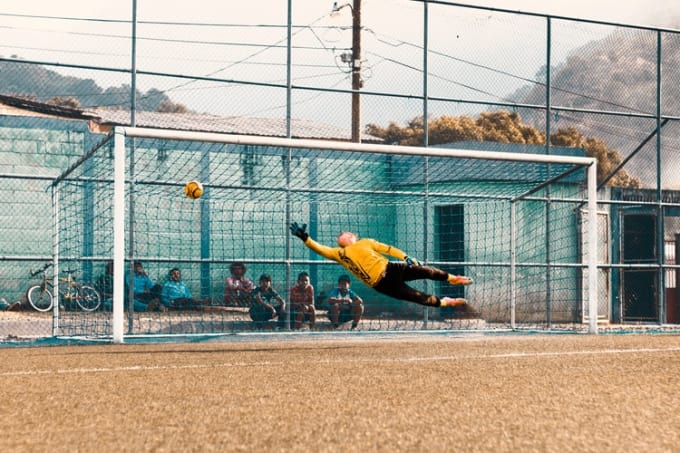 It takes a different breed of individual to want to play the goalie position. It's not natural to want to stand in front of someone kicking a ball at you at extremely high velocity. The keeper's gloves are the first and best line of defense, protecting the hands, along with the wrist, elbow, and shoulder joints.

Much like any other piece of equipment, goalkeeper gloves are as much about the preference of the keeper than the overall quality of the gloves themselves. While it's true that not all gloves are created equal, it is possible to find high quality goalkeeper gloves under $100. Because soccer is the most popular sport worldwide, there is a huge market for equipment, with so many companies throwing their proverbial hat in the equipment ring. 
The most important factor in choosing the right pair of gloves for soccer goalies is the cut of the gloves. They want the gloves to be comfortable, but not at the expense of the protection factor. Comfortable gloves that don't protect well are a recipe for a very short career.
What you are really looking for when you are searching for goalkeeper gloves under $100 is a hybrid of comfort and durability. The last thing you want is a glove that offers very little finger protection or palm protection, but is very comfortable. Conversely, you don't want a glove that is so durable and bulky that you aren't comfortable while playing.
Kraken NRG NEO Professional by Rinat
The Kraken Pro from Rinrat is a professional quality glove at a reasonable price. Billed as Rinrat's most advanced glove, it is both comfortable and durable. The interior of the glove has a gel that is designed to keep the gloves from shifting around while being worn. The Kraken Pro is designed for keepers of all levels, from the beginner looking for a quality glove to the highest level players wanting a great pair of goalkeeper gloves.
Predator Pro 18 by Adidas
Adidas has been a staple for soccer equipment for years. Built for colder temperatures, the Predator Pro 18 will give you the flexibility, durability, and warmth that shows why so many of the best soccer goalies of 2018 choose Adidas.
Prisma Prime S1 Evolution by Reusch Soccer
The Reusch Soccer Prisma Prime S1 glove is made from a high quality foam that has a roll finger design, but that should bee no surprise as Reusch has manufactured a number of the best goalkeeper gloves to buy on the market. What that means is that the goalkeepers fingers will be positioned perfectly, so that they can be confident when making saves. The gloves have a good mix of comfort and durability, but are best suited for natural grass fields.
Aerored Absolutegrip by uhlsport
The Absolutgrip from uhlsport does exactly what it was designed to do. Namely, grip the ball in any weather conditions. These gloves are especially good when the ball is wet and slippery because of the extra cushioning and extra sticky grip. The glove has an ergonomic cut for maximum comfort, and has a wrapped thumb for a snug fit. Even though the gloves have extra grip, they are still very breathable.
Reload Prime G2 by Reusch Soccer
If you're looking for an extremely comfortable and performance minded glove, the Reusch Reload Prime G2 is the glove you've been looking for. The palms have Reusch's G2 Ultrasoft foam that will give you an advantage in any weather conditions, and are purposely designed to be ultra protective.
Spyne Pro by Nike
The company markets the Nike Spyne Pro glove as being built with advanced training and the best soccer goalkeeper drills to use in mind. This glove is built to be stable, and will provide a comfortable fit around the palm and fingers while still protecting them from incoming shots.
Eliminator Soft SF by uhlsport
The Uhlsport Eliminator Soft SF glove is a classic cut glove that is designed for maximum stopping area. The glove has integrated finger spines to add to the protection of the gloves, and is well-ventilated for breathability and comfort all game long.
Stretta Feuer USA V7 by Aviata Sports
The Aviata Stretta Feuer USA V7 has a double-wrapped elastic strap and removable finger spines for a significant amount of protection tailored for each individual goalkeeper. The gloves come with Aviata's pro stretch elastic to aid in their comfort, as well as an air control pro mesh to help keep your hands cool. This set of gloves is not only one of the best goalkeeper gloves under the $100 price tag, the patriotic red, white, and blue color scheme will keep your spirits high as you play the most popular game in the world.
One Grip IC by Puma
These are a match-grade glove that won't break the bank, but Puma's One Grip IC gloves are performance minded. The latex palm will ensure that your grip will be true, whether it is wet or dry, on the pitch. The backhand portion of the glove is a ribbed, latex material that will be both protective, and give your hands the freedom they need to move freely.
Desafio Pro by Under Armour
Relatively new to the sporting world, Under Armour has designed a glove that rivals all the other goalie gloves. The company is known for creating quality athletic gear and the Desafio Pro gloves are no exception. The gloves have solid foam protection on the palms for added grip in all conditions, and finger supports to aide in the overall stability of the glove. Regardless of your style of play, all goalies should have quality equipment that doesn't break the bank. Fortunately, goalkeeper gloves under $100 are exactly what you need to make sure you aren't choosing price over quality.