Alexis Sanchez
Is the world really our stage?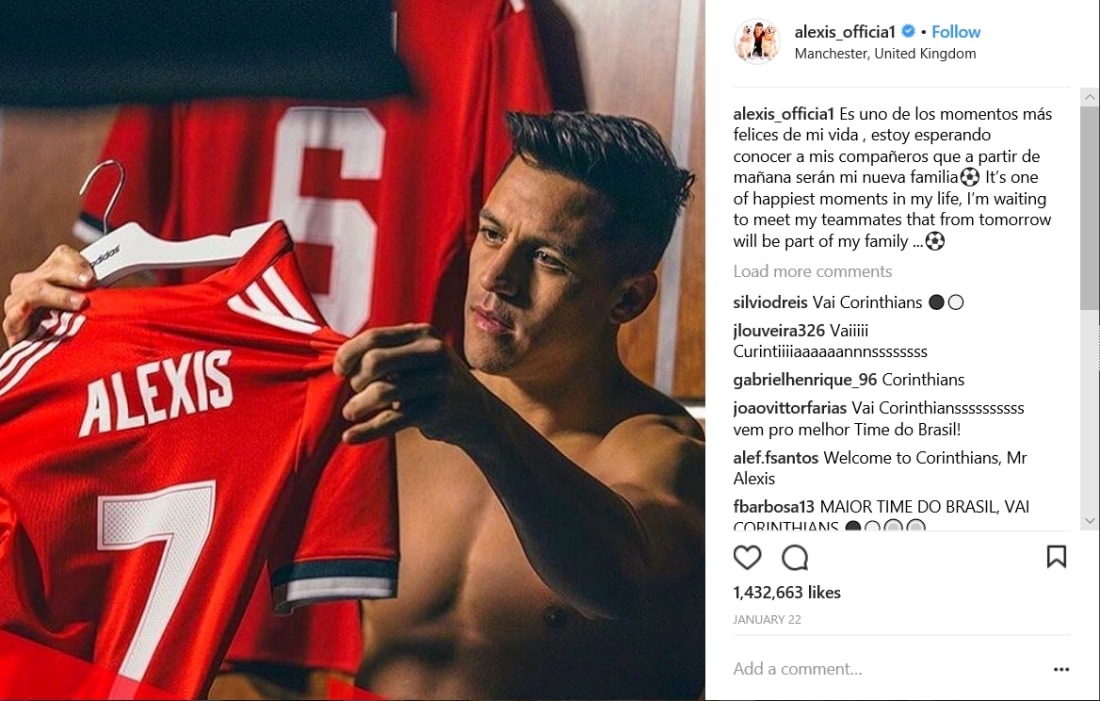 Firstly, this is not a rant against elite footballers and their super high wages. I do not know Mr. Sanchez other than the Alexis I can see on Insta or through media outlets. He is an excellent footballer, seems to have a strong family life and loves his dogs, so on the surface, a decent bloke. His arrival at Manchester United sparked unprecedented responses.
In his report to investors, the Manchester United Chief Executive, Ed Woodward, described the activity around his arrival.
"To put that into context, the announcement posts generated 75 percent more interactions than the announcement of the sale of the world's most-expensive player last summer when Neymar moved from Barcelona to Paris Saint-Germain."
"Alexis Sanchez has set a new January signing record in terms of shirt sales, three times the previous record."
He said the Sanchez deal, which saw Henrikh Mkhitaryan move to Arsenal, "generated some interesting social media stats."
"It was the biggest United post on Instagram with two million likes and comments, the most shared United Facebook post ever, the most retweeted United post ever, and the hashtag #Alexis7 was the number one trending topic on Twitter worldwide," he explained.
All this because of one person changing his employment.
Every part of that move was orchestrated and staged by marketers. The photo above is not one of Alexis simply picking up his new shirt, the iconic number 7. Look again, perfectly balanced, the number 6 of Paul Pogba in the background, the clubs most expensive player to date at £89,000,000.
The perfect toning of his body, the admiring glance towards the club badge. The careful placing of his fingers to reveal the Adidas sponsorship tag. There is nothing casual about this image.
Someone once said "the world is a stage." well it was Billy Shakespeare to be more accurate, and what he said was, "All the world's a stage." It is the phrase that begins a monologue from William Shakespeare's As You Like It. The speech compares the world to a stage and life to a play, and catalogues the seven stages of a man's life. It is one of Shakespeare's most frequently quoted passages.
From Alexis to Zlatan, that stage is now truly global for all to see. It is a stage that we all perform on. Just writing here on Vocal Media is my stage, but so is Instagram and Facebook (less so these days).
We carefully manipulate our images, select our hashtags and seek out trends in a bid to be seen and heard. Everyone can be, and is, on the stage. The audience, what is left of it, is becoming disinterested amid the flood of media. Can anybody see us anymore, can anyone hear us?
I am not talking about the #Alexis7 of our world, he can clearly be seen by the global audience, fed incessantly by the media moguls that prepare our banquet. No, I am talking about us, you and me, the ones who pick up the crumbs under the online table. Can we ever be seen and heard? Do we need to be seen or heard?
We shout from our position in Whoville, "we are here," hoping that Horton may hear us and save us from being squished (you really need to read Dr Zeuss Horton Hears a Who for a wonderful view of current culture).
Yet the truth is we are heard, we are seen, by those closest to you, and in turn, they are really the only ones that matter. So there is no need to be on the stage, there never really was a stage anyway, that was just an illusion. Enjoy your Insta, love your Vocal Media, earn some money, spend it well, love others and live at peace.
The world was never your stage, you don't have to be the star, you have nothing to prove, no need to be loved by everyone, and as the great philosopher Gary Barlow once said
You can dance if you like
You can sing every line of every song
No, you don't have to steal the show
It was your show all along.