Cleats is powered by Vocal creators. You support
Alberto Huichapa
by reading, sharing and tipping stories...
more
Cleats is powered by Vocal.
Vocal is a platform that provides storytelling tools and engaged communities for writers, musicians, filmmakers, podcasters, and other creators to get discovered and fund their creativity.
How does Vocal work?
Creators share their stories on Vocal's communities. In return, creators earn money when they are tipped and when their stories are read.
How do I join Vocal?
Vocal welcomes creators of all shapes and sizes. Join for free and start creating.
To learn more about Vocal, visit our resources.
Show less
2018 World Cup Group Stage Rundown: Group H
A Brief Overview of Group H
The final group of the World Cup was a very competitive one, with each team having their own set of unique skills and traits that make them fierce competitors. Thus, Group H was one of the more entertaining groups to watch in Russia.
Colombia survived an early elimination scare and finished at the top of the group. Japan finished second, followed by Senegal. Eighth-ranked Poland, who looked very dangerous throughout World Cup qualifying, were at the bottom of the group. 
Colombia's failed to win their opening match against Japan. A Carlos Sanchez handball in the third minute of the game saw the defensive midfielder be awarded the second fastest red card in World Cup history. Japanese star Shinji Kagawa put the Asian side in the lead from the penalty spot. Juan Fernando Quintero scored the equalizer right before halftime but Yuya Osako's header in the 73rd minute was enough to see them become the first Asian side to beat a South American opponent in a World Cup. 
A loss, even a draw depending on the result of Senegal and Japan, against Poland would certainly eliminate the Colombians.  
Barcelona defender Yerry Mina scored a beautiful header before halftime to put the South Americans in the lead. 
Captain Radamel Falcao would score the goal that would end Poland's World Cup. Falcao's goal was also a very special one to him. After missing Brazil 2014 to a knee injury, Falcao's goal was his first World Cup goal and it also increased his international tally as the nation's top scorer to 30 goals. 
Speedy winger Juan Cuadrado would score a third goal five minutes after, intensifying the pain the Polish fans were feeling. At the final whistle, Colombia were still alive while Poland became the first European team to be eliminated at the tournament. 
The Colombians were now in a must-win situation alongside an impressive Senegal side. 
Colombia retained more possession of the ball throughout the entirety of the game but Senegal's attack, led by Liverpool star winger Sadio Mane, kept posing a continuous threat on goal. 
In the 74th minute, Mina became Colombia's hero, scoring the game's lone goal with a header off a corner kick. 
For the third time in their history (the first time consecutively and as group leaders), Colombia qualified for the knockout stages. 
They'll look to keep their inspiring momentum going in the Round of 16 and repeat the 2014 success story.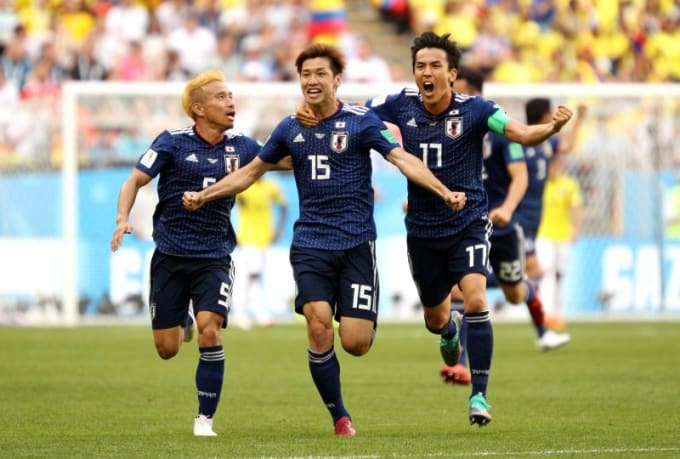 Drawn with Colombia in Group C in 2014, Japan were eliminated from that tournament after failing to win a must-win situation and instead, were embarrassed in a 4-1 loss. 
Four years later, fate saw the two nations draw in the same group again. The Japanese were out for revenge after the heartbreak the South Americans put Japan in 2014. As luck would have it, they got their revenge, winning 2-1 in a very tight game. 
Their next match-up against Senegal was just as intense. The game eventually settled with a 2-2 draw and the teams each shared a single point in the group. Keisuke Honda, responsible for Japan's second goal, became the highest Asian scorer in World Cups, scoring four goals in nine appearances at the tournament. Furthermore, he became the first Japanese player to score in three World Cups (2010, 2014, and 2018). 
Though Poland beat Japan 1-0, Colombia beat Senegal 2-1, leaving second place to the hands of a a discipline record tiebreaker because all other factors were level between Japan and Senegal. Senegal would get the axe, crashing out of the tournament because of their poor discipline in the previous matches. 
Japan became the first team in history to advance to the knockout stages by Fair Play rules. The Japanese will be looking to prove they don't rely on luck to beat fierce competitors and hope to advance to the quarterfinals for the first time in their history.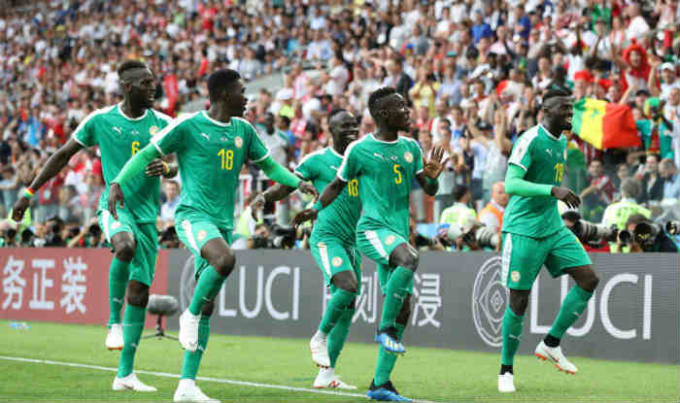 Senegal made their return to the biggest international stage in football after a 12 year absence. 
Senegal had an incredible World Cup debut in 2002 that saw them make defeat defending champs, France, in their opening match and make it all the way to the quarterfinals. Head coach Aliou Cisse — the youngest and only black coach in Russia 2018 — was the captain of that inspirational squad and hopes to take another Senegalese team on another successful run. 
With Mane in-form, the Senegalese posed a dangerous attacking threat to their opponents. 
An unimpressive Polan was enough for Senegal to come out on top of the powerhouse European nation. An own goal and miscommunication between Grzegorz Krychowiak and goalkeeper Wojciech Szczesny allowed Senegal to finish off Poland in a 2-1 victory. 
Mane opened up his World Cup account by giving Senegal the 1-0 lead, though Japan's Takashi Inui would score the equaliser. Senegal got the lead back in the 71st minute only for Honda to equalise again in the 78th. A very entertaining game ended in a 2-2 draw. 
Senegal faced Colombia in their group finale. All Senegal needed was a draw to secure qualification to the knockout stages. Yet, the Colombians fiery passion outmatched Senegal's, resulting in the West Africans elimination. 
Though they were misfortunate of being eliminated by discipline record, Senegal still came and gave football fans a show.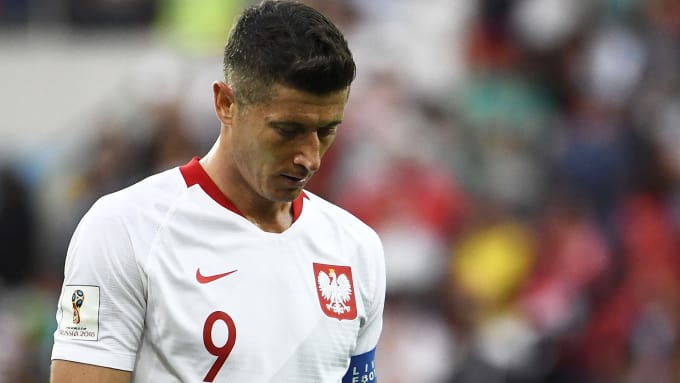 They arrived to Russia as the eighth best football nation and they left showing no signs of that title. 
Captain Robert Lewandowski finished European World Cup qualifying as the the leading goalscorer (16 goals). In Russia, Poland would highly depend on Lewandowski to get up top and score goals. Yet, the pressure may have been too much for the captain and he failed to muster a single goal. 
Their grave errors against Senegal would doom their tournament. 
Against a dominant Colombia, they succumbed to pressure and fell eliminated. 
Their 1-0 victory Japan was a slight consolation  but the heartache was still present within the Polish. 
If Poland had played like they did in qualifying,  drama in Group H would've been much more intense but Poland were nothing like their qualifying self. 
They'll return home with haunting memories from Russia 2018. 
Colombia face off against another speedy opponent, England, on July 3 at 1 PM. 
Japan face a tough opponent in Belgium, who look to bring home their first World Cup trophy, on July 2 at 1 PM.